Everything We Know About the 'Ghostbusters' Reboot (So Far)!
Written by Brittany Taormina. Published: February 08 2016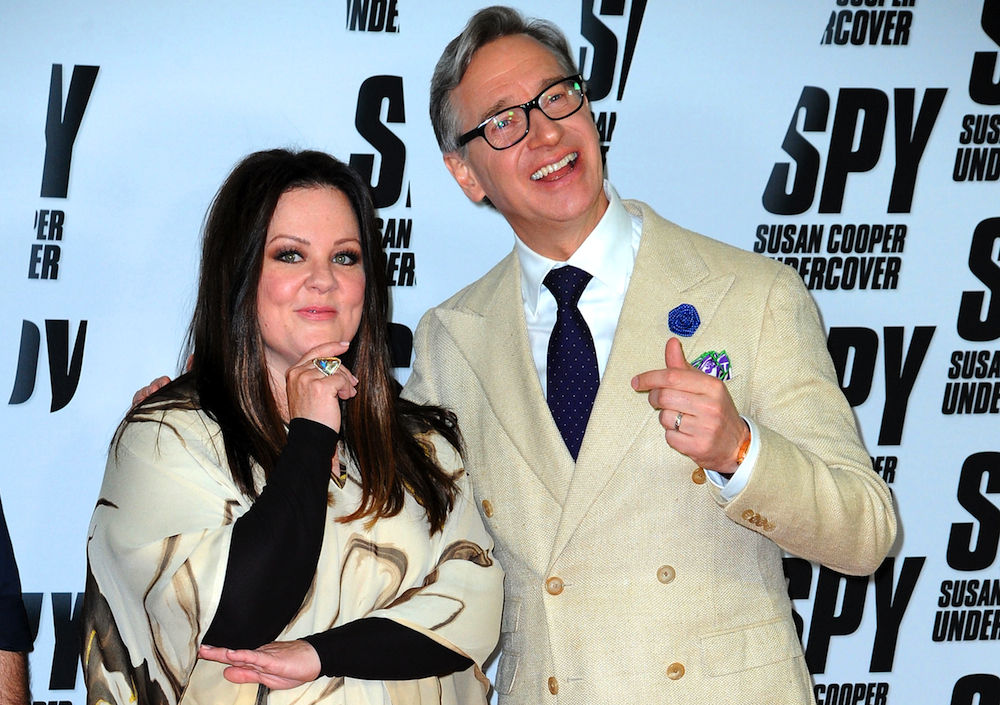 Who you gonna call?
As I'm sure you've heard by now, Columbia Pictures is rebooting the classicGhostbusters movie with a female-centric spin, and we couldn't be more excited! Can you say girl power? The new film will star Melissa McCarthy, Kate McKinnon, Kristen Wiig, andLeslie Jones as the titular paranormal investigators, as well as Charles Dance,Michael Kenneth Williams, andChris Hemsworth. These four incredibly funny women mixed with the essence of paranormal activity will be a great dynamic.
It has also been rumored that stars from the original,Dan Aykroyd, Bill Murray, and Sigourney Weaver, will make appearances as well, indicating that this won't be so much of a reboot as a "next-gen" sort of thing (unless Dan, Bill, and Sigourney are not reprising their roles as Ray, Venkman, and Dana, respectively, but are just making random cameos).
The incredible Paul Feig is the director on the film, whose name you'll recognize from such hit comedies (also starring McCarthy) including Bridesmaids,The Heat, and Spy. The plot for the new film still appears to still be a mystery, but as some of the images from the set have surfaced, it appears that the new movie will feel very similiar to the original, especially those outfits. The film may turn out to be a continuation or a completely new storyline.
Last week, Sony launched their official website from the movie, and although it still doesn't give away too much about the plot, we do know a little bit more about the characters:
- Melissa McCarthy plays Abby Yates, who is described as the team's "paranormal researcher, supernatural scientist, entity trapper". I'm guessing she must be the female version of Ray Stanz?
- Kristen Wiig is Erin Gilbert, a "particle physicist, academic firebrand, spectral warrior", and, presumably, the female Peter Venkman.
- "SNL" castmember Kate McKinnon will play Jillian Hotlzmann, who is described as a "uclear engineer, munitions expert, proton wrangler", and most definitely the Egon Spengler of this film!
- And Leslie Jones plays Patty Tolan, who is "ghost tracker, municipal historian, metaphysical commando", which, to be honest, also sounds a lot like Ray Stanz. 
Meanwhile, Chris Hemsworth is playing Kevin, the group's receptionist. If this film truly is an homage to the original, then I foresee a romance between his character and McKinnon's!
The new film has even already inspired a set of LEGO action figures!
Heeeeeeere's LEGO!!! Official announcement & photo of full set coming in one hour at 8amPST/11amEST from Lego. #GB16pic.twitter.com/3n08yovvau

— Paul Feig (@paulfeig) February 5, 2016
The film is set to release on July 15, 2016, though we still have yet to see any trailers or teasers -- keep an eye out for that soon! We can't wait to see these ladies bust some ghosts!
(Photo via Patrick Hoffmann/WENN)
- Brittany Taormina, YH Contributing Writer; additional reporting by Katie Marzullo, YH Staff Editor