Event of the Summer: iParty with Matt Bennett!
07-09-2022 by Skylar Zachian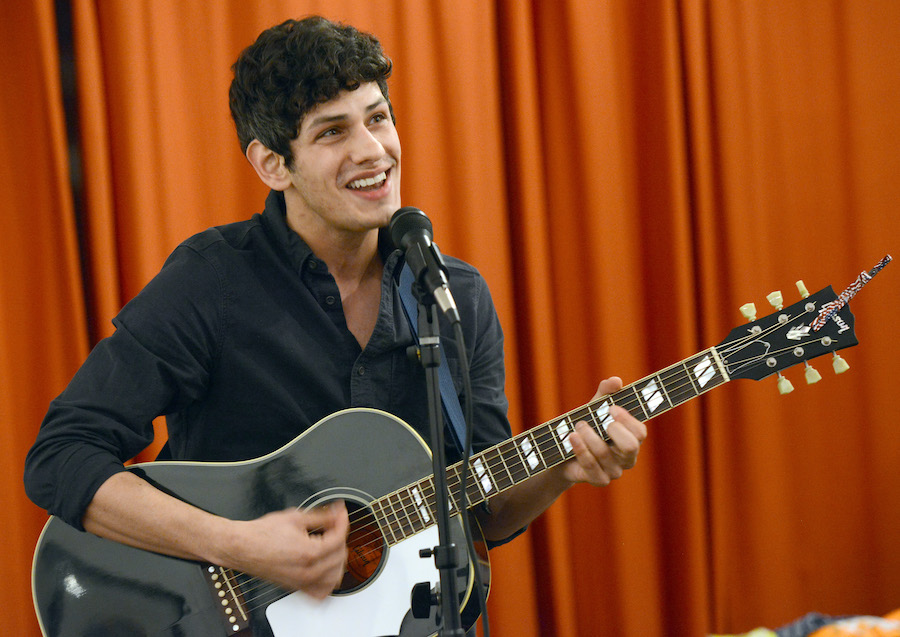 ( © Albert L. Ortega/Getty Images)  
Have you ever dreamed of singing your heart out to Nickelodeon and Disney hits in a concert setting? If so, your dream is about to come true. 
Matt Bennett, AKA Robbie Shapiro from "Victorious", recently started hosting an event called iParty. At this exciting gathering, DJ Bennett and special guests — such as his fellow "Victorious" cast members Daniella Monet (Trina Vega) and Liz Gillies (Jade West) — sing and dance along with the audience to all the best songs from our childhood.
Pumped for iParty? Here's what you should do next:
1. Get Your Tickets!
iParty will be on tour this Summer with dates lined up in different cities from July 1 through August 20. You're probably thinking you would sell your left pinky toe to get these tickets. Believe it or not, no extreme measures will be necessary! You can get into most of these shows for a respectable $20. However, shows are selling out at a high rate, so if you want to reserve a spot at iParty, run, don't walk to the link here!
2. Request a Show In Your Hometown!
Can't find any shows near you? Drop a comment on the Instagram post below to request a show in your city! When many commenters voiced interest in a Philly show, the official iParty Instagram account commented back "see you there ?" They are clearly responsive and receptive to suggestions!
3. Learn Some Disney Dances!
At past shows, Matt Bennett has brought audience members up on stage to dance to Hannah Montana's "Hoedown Throwdown" and High School Musical's "We're All in This Together". Put on your dancing shoes because now is the perfect time to learn the moves that you've always wanted to bust out at parties! Not sure where to begin? We've got you covered:
"Hoedown Throwdown" — Watch this video for a "Hoedown Throwdown" tutorial from queen Miley Cyrus herself!
"All in This Together" — Who could possibly be a better dance teacher than Maddie Ziegler from "Dance Moms"?
4. Brush Up On The lyrics To Your Fave Throwback Songs
From High School Musical and "Hannah Montana" to Camp Rock and Lemonade Mouth, Matt Bennett's iParty song lineup features plenty of Disney. However, the highlight of the event is the soundtrack to the iconic Nickelodeon show "Victorious". While each iParty show might be a bit different, Bennett is essentially guaranteed to play a handful of "Victorious" fan favorites. At past shows, Bennett has played "Make it Shine", "Beggin' on Your Knees", "Best Friend's Brother", "Give it Up", "Freak the Freak Out", and "Take a Hint"! 
Here are the top 3 Victorious sing along videos to jam out to in preparation for iParty, plus some quick refreshers on the context of each song!
"Make it Shine" — Not only is "Make it Shine" the show's theme song, but it's also the song that got Tori (Victoria Justice) into Hollywood Arts. In the show's pilot episode, when Tori's sister Trina has an allergic reaction to a beverage that she thought would improve her singing for the big showcase, Tori reluctantly takes the stage in Trina's place. Tori is a bit reserved at first, but she gains confidence a few seconds into the song and signals to André (Leon Thomas III) to speed up the music. After the show, the principal offers Tori a spot at Hollywood Arts and the rest is history.
"Beggin' on Your Knees" — In Season 2, Episode 1 ("Beggin' on Your Knees"), Tori falls for a cute guy who has a secret: he is only dating her because he wants to sing a duet with her at the Full Moon Jam to receive a good grade. Once Tori finds out that he is using her, she and Andre pull an all-nighter to write "Beggin on Your Knees". Tori gives an amazing performance at the Full Moon Jam and teaches that jerk a lesson!
"Best Friend's Brother" — In Season 2, Episode 5 ("Prom Wrecker"), Tori puts together a prom for Hollywood Arts. Jade, being her usual rage-filled self, sets out to ruin the night. When Tori attempts to salvage the event, she ends up singing "Best Friend's Brother" in the rain! 
Loving your trip down Memory Lane? There's only one thing left to do before you (i)Party…
5. Grab Your Friends and Get a Group Costume!
Everything's better when you're all dressed up. Before you and your besties head to iParty, plan a Disney or Nickelodeon group outfit. Not only will dressing up like The Cheetah Girls or Sam & Cat get you in the perfect party mood, but it will also increase your chances of being recognized by Matt Bennett!
Now that you're fully prepared, it's time to turn your iParty dreams into reality! You will not want to miss this one-of-a-kind experience!