Childish Gambino's 'because the internet' Takes Concept Albums to a Whole New Level!
Written by Kevin Donaldson. Published: December 15 2014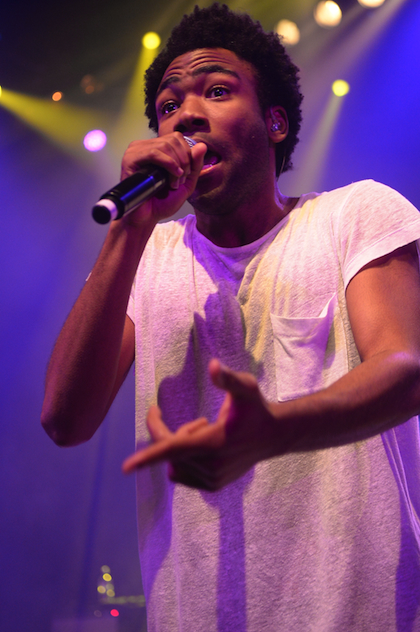 Actor, writer, stand-up comedian, rapper… the one-man arsenal of creativity known as Donald Glover sure has a lot of pasttimes to keep him busy. Glover began his career fresh out of NYU with a job as a writer for Tina Fey's hilarious comedy "30 Rock" and got an Emmy out of the gig. Not too shabby. Now, Glover is in contention for a completely different award. His rapping alter ego, Childish Gambino, recently received a Grammy nomination for his second studio album, entitled because the internet.
because the internet isn't your average rap album… it's an experience. It features hidden secrets layered all around the Internet, some of which may not have even been found yet. Being the first concept album all about the Internet means you better be ready to go all out, and Gambino did just that. Starting off with his most obvious secret is becausetheinter.net, a webpage created by Gambino that houses a screenplay to accompany the album.
The screenplay tells the story of rapper Rick Ross's nameless (to us, at least) son. Gambino calls this character The Boy, and we follow him on a Great Gatsby-esque adventure around Los Angeles and Sweden as he keeps up his Twitter fame by retweeting celebrities' goofy comments, taking video of somebody getting shot up outside a club, selling weed, and falling in love (sort of). With in the pages of the screenplay are also embedded videos starring Gambino and his friends. The videos are meant to be watched while playing the designated songs for each scene. Below is a video with all the scenes synced up. I think "Death by Numbers" is the most impressive one, but you judge for yourself:
And it doesn't end there. The screenplay has a playable section where a secret track is supposed to play. It was long thought to be a song he released for free on its own before because the internet was released, entitled "Yaphett Cotto", since a video with a scene from the screenplay was released on YouTube synced up to the tune. Gambino had other plans and made fans wait almost a year after because the internet dropped for the secret track.
On his newest EP, entitled Kauai (which all the proceeds for went to preserve the Hawaiian island of Kauai), there is a remix ofbecause the internet's biggest hit "V. 3005" (the "V." is a chapter mark for the screenplay), entitled "V. 3005 (Beach Picnic Version)". It's mainly a slow instrumental tune, but coded within the pages of the screenplay was a hidden a cappella track. Below is the song synced up in its entirety:
In the screenplay, The Boy was somewhat Twitter famous under his handle @thegoldenmolar. Although not active anymore, leading up to the album's release, tweets seen in the screenplay were made from this account. Not too long ago, you could see all of these tweets and get a timeline of how much real time the screenplay takes place over. Even a Twitter famous Swedish girl he encounters named @Hello_Pity_ tweets at him at the appropriate time.
On his personal Twitter account, however, Gambino was posting the phrase "Roscoe's Wetsuit", as well as posting pictures of it on billboards and on the sides of buildings starting in August of 2013. He would retweet anybody who tweeted the phrase at his personal Twitter account, thus giving fans the satisfaction of knowing he actually reads their tweets. The question still persists as to what "Roscoe's Wetsuit" could mean. Rather than guess what it is, I'm going to say it probably has no meaning. It just shows that, depending on what kind of social status you have, you can get nearly anything to trend, whether it has a meaning or not.
On the day that because the internet was leaked before it was officially released, Gambino simply tweeted "Enjoy." Now this seems really obvious that he leaked the album himself. It was public knowledge that the label he signed with, Glassnote Records, wanted to hold the release until after Christmas, since he's not that big of an artist and it's not a holiday record. Well, I think a Grammy nomination proves he's a pretty big flippin' artist. The leak definitely helped the album to be released on December 10, 2013.
You may not have noticed before, but in the video with the movie scenes, in the second scene there is a flash drive on The Boy's desk that says, "Hackz" on it. Different record stores throughout the country, like Amoeba in Los Angeles and Rough Trade in New York City, sold limited edition copies of because the internet with one of these flash drives. The drive contained four different files: (1) A PDF of the screenplay, (2) The movie's poster, (3) The full Life is Beautiful music festival performance in Las Vegas on October 26, 2013 (audio only), and (4) A copy of what many people also thought may have been the secret track entitled "What Kind of Love". It goes great with "Flight of the Navigator". Take a listen:
The summer before because the internet was released, Glover had people wondering what he was doing. He announced that he was cutting down his time on "Community" and then eventually leaving the show. He also shut down his Twitter account, which he was known to be highly active on. He did many things to aide his creative process, such as renting Chris Bosh's Los Angeles mansion, started work at 10AM every morning, and purging himself of Twitter. But in the summer of 2013, because the internetwasn't the only thing he made. He made a short film with the future director of most of the music videos for because the internet, as well as the movie scenes, Hiro Murai. Murai has also directed music videos forSt. Vincent, The Shins, andEarl Sweatshirt.
The short film is called "Clapping for the Wrong Reasons" and shows a day in the life of Gambino while he was making the album. It's pretty strange, dark, and quite humorous at times. It also has two versions for free viewing on YouTube. Both versions feature instrumentals heard on because the internet and pornstarAbella Anderson in her first non-nude role, but lures you in on the thumbnail. Also featured are different rappers, musicians, friends of Gambino, and Danielle Fishel(AKA  Topanga from "Boy Meets World" and "Girl Meets World"). Watch them below:
The Internet Version – Released July 30, 2013
Director's Cut – Released August 15, 2013
The only question left with because the internet is, are there still secrets on the internet? iamdonald.com (Glover/Gambino's personal webpage) used to be riddled with coding but has mainly switched back to videos and pictures he likes. Who knows, perhaps with the recent Grammy nomination, he'll add more secrets around the Internet. What I do know for sure is that, if Gambino wins the Grammy, he'll be two awards away from the coveted EGOT, thus he'll be on the same level as a "30 Rock" character he used to write for and played the younger version of, Tracy Jordan. Speaking of "30 Rock", listen to a song he's rumored to have written for Tracy Jordan and is even featured on.
Happy Chanukah!!!!
Break the internet at the Grammys, Gambino!
(Photo via IconicPix/WENN)
- Kevin Donaldson, YH Staff