BEYOND IMDB: Michael B. Jordan
Written by Raffy Ermac. Published: April 22 2014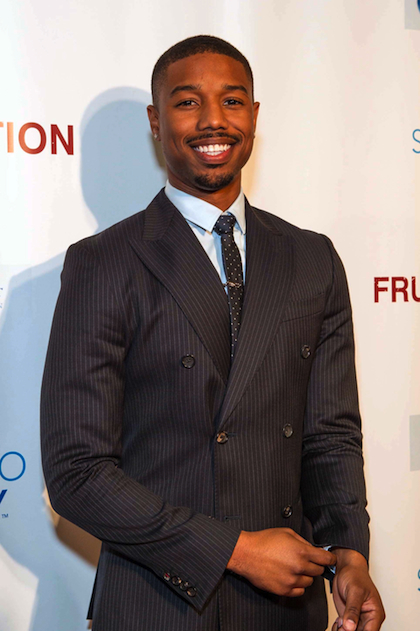 Move over Zac Efron (but not TOO far...), because there are some other notable, young, and oh-so sexy heartthrobs in town, and one of them just so happens to be your That Awkward Moment costar,Michael B. Jordan.
You probably recognize him most from 2012's Red Tails or the "Friday Night Lights" and "The Wire" television series, or even from something as far back as his stint on "All My Children", but Jordan really started making a name for himself when, in 2013, he starred in Fruitvale Station, the dramatic true story of Bay Area man Oscar Grant, who was fatally shot by Oakland police while trying to take public transportation on New Year's day in 2009.
The film not only helped cement Jordan's rise into stardom, but it also showcased the serious talent he had for a dramatic, leading role.
It's not really a surprise as to how talented Jordan is, though. He's been doing this for a long time.
Not a newcomer by any means, Jordan has been acting for quite some time, and has been in all sorts of television and movie roles since 1999. It's hard to believe that someone with such a youthful look to him has been acting professionally for years, but that won't stop us from loving and indulging in his trademark smile and overall handsomeness.
We'd even go so far as to say he could even be the nextDenzel... in fact, we DID say that when the talented actor dropped by the YH Studio!
Shortly after the success of Fruitvale, Jordan starred alongside fellow young heartthrobs Zac Efron and Miles Teller in the aforementioned That Awkward Moment, a light, funny depiction of three city boys vowing to abstain from relationships and anything having to do with them. Of course, hilarity does ensue.
Fast forward to the present, the New Jersey native is now set to star as the Human Torch in next year's revamp of the Fantastic Four, a role that was previously played by the also hunky and now super iconic Chris Evans. All that we know is this role has the potential to catapult Jordan into becoming a veritable household name, and that possibility, paired with the fact that we get to see him be a freakin' superhero, has us shaking in our fan-girl boots in excitement.
From his dimples and his effortlessly cool style to his boy-next-door charisma and his extreme knack for playing roles in all sorts of movie genres, all that you could ever want in a Hollywood leading man is in Michael B. Jordan. If there was ever a candidate for someone to be the next-generation Denzel, Jordan is definitely it.
(Photo via Drew Altizer/WENN)
- Raffy Ermac, YH Staff