BBFs Amy Poehler & Tina Fey Returning to the Big Screen as 'Sisters'!
Written by Kevin Donaldson. Published: January 13 2015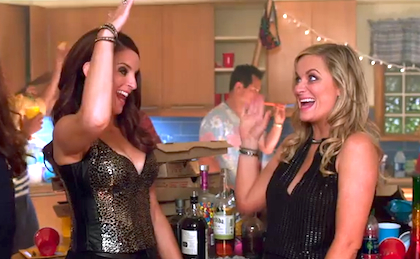 Didn't get enough of the hilarious banter between comediennes Amy Poehler and Tina Fey during Sunday night's Golden Globes? Well, good news for you, because you'll get to see the two of them play sisters in the upcoming film...Sisters (what a title)! Check out the first TV spot below:
Unfortunately, you're going to have to wait until Christmas to actually see it though. Since, Tina and Amy will not be returning to the Golden Globes again next year, at least we'll get our fix of their amazing chemistry around the same time. To bring you up to date, the movie is about Amy Poehler and Tina Fey reuniting as sisters after years of estrangement. For an as-yet-unrevealed reason, the sisters visit their childhood home when their parents decide to sell the place, and the sisters try to throw one last house party.
This sounds pretty damn funny to me. Having visited my childhood home for the first since I left to come to Hollywood, I can say that coming home becomes like a high school reunion. So, my guess is that this movie could end up being a kind of a nostalgia comedy with a family twist to it.
Aside from the hilarious women cast as the two leads, adding to the film's film's comedic cred is writer Paula Pell. Pell has written for "SNL", "30 Rock", and is said to be involved with the writing process of Tina Fey's upcoming Netflix series "Unbreakable Kimmy Schmidt". She also co-produced the Judd Apatow film This is 40 and appeared in "30 Rock" with Tina Fey as Pete Hornberger's (Scott Adsit) wife as well as Ron Swanson's (Nick Offerman) mother Tammy Zero in "Parks and Rec" alongside Amy Poehler. In fact, check out Pell as Ron Swanson's mom take Poehler's Leslie Knope down a peg:
I even got some inside information for you about where they're filming. No, I didn't work on set, but they shot in towns in New York state like White Plains and Haverstraw. One of the other towns where they filmed is two less than two blocks from my own childhood home called Pearl River. The thing about Pearl River is that it was originally named Muddy Brook, due to their very low and dirty streams. Now, does that sounds like a place you'd want to vist? After a while, the town agreed it wasn't and changed it to Pearl River, "The Friendliest Town in New York". They didn't even try to say America, that's how nice and humble these people are. It's a heavily Irish-populated town that has a huge St. Patrick's parade every year. Look for Amy and Tina to pop up in some scuzzy Irish pub that, even though it's in a movie, you can tell smells like a urinal cake.
Speaking of Amy Poehler and Tina Fey partying, what has been your favorite moment between the two pals? As a huge fan of "30 Rock", I know what mine is:
(Screenshot via YouTube)
- Kevin Donaldson, YH Staff