ARTIST TO WATCH + Q&A: Stacey Ryan
Written by Skylar Zachian. Published: November 13 2023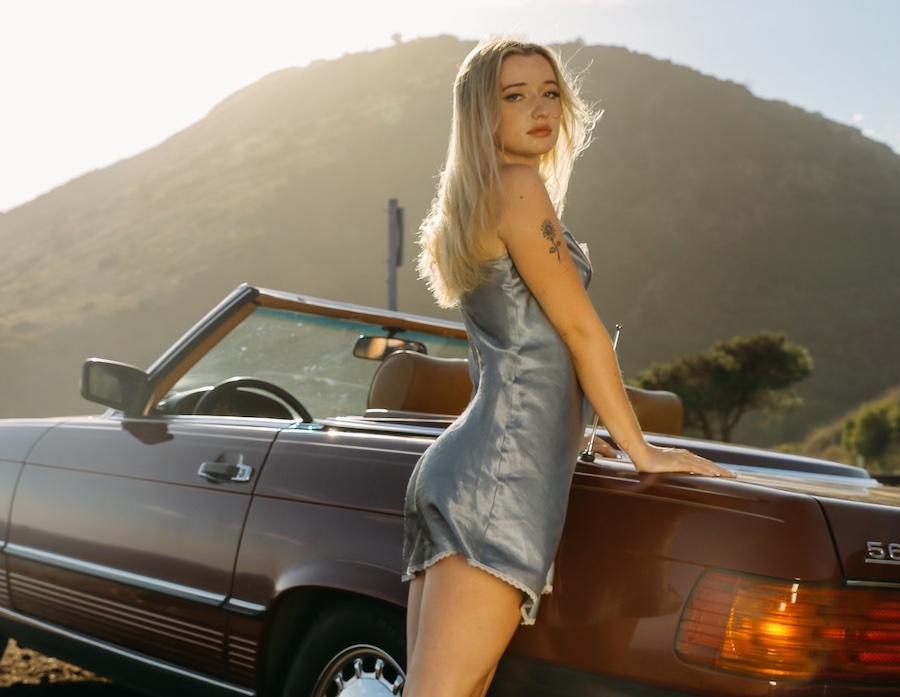 (Photo © @alexandriapictures)
If you're a fan of pop music infused with other genres like jazz, R&B, and soul, you're going to want to have Stacey Ryan on your radar! A Canadian singer/songwriter who grew up in Quebec, Stacey is best known for her songs "Don't Text Me When You're Drunk" and "Fall In Love Alone", which both went viral on TikTok. And she has plenty more songs where those came from! This past April, she released her debut EP I Don't Know What Love Is, and her newest single "Dream Boy" just dropped on October 27th.
We chatted with Stacey about her songwriting process, biggest accomplishments and aspirations, new music, and more. Check out the full interview below!
YH: Can you tell us about your musical background? What were your earliest experiences with singing/songwriting and what led you to pursue a career in the music industry?
SR: My dad always played music in the house when I was younger. He plays piano, so we had one and I would always tinker around on it. I started taking piano and singing lessons when I was 9. I was in talent shows in elementary school. In high school, I was in this intensive music program. I played trumpet in the band and had an amazing experience. That's when I realized that I wanted to pursue music after high school. I'm Canadian, so before you go to university to get a Bachelor's Degree, you get an Associate's Degree. I did my Associate's Degree in Jazz Performance. Then I went viral on TikTok and the rest is history!
YH: Your music has quite a bit of jazz influence. What in particular draws you to that genre?
SR: What I love so much about jazz is that it's a timeless genre. It's the base of so many other kinds of music, like R&B and soul! It's such an underappreciated and classic genre. Jazz can elevate any style of music. That's why I call my music "elevated-pop".
YH: What does your songwriting process typically look like? Can you recall any particular times when you have felt most inspired? 
SR: My songwriting process has changed a bit in the past couple of months. I've been writing a lot and have been really trying to write music that feels true and personal to me. Before, I would get in a room with a songwriter and a producer and it would be like, "Okay, let's start with a chorus and then find some chords and then start writing." Recently, I've been a bit more experimental. Instead of doing the cookie-cutter formula, we've been thinking a little more outside-the-box, doing stuff that sounds poetic and more like a story. I've been writing some of the most honest music of my life recently. It's been cool to leave my inhibitions at the door, write what feels real to me, and not necessarily put myself inside a box. I have been writing 3-4 songs per week, and in my head, I'm like, "What else could I possibly write more about?" But that was also giving me a unique challenge of going into a session and finding something that feels right. On Halloween, I had a session, and I went in there and told them, "Guys, I feel like I'm running out of steam and ideas." We ended up writing one of my favorite songs I think I've ever written… ever.
YH: In 2021, you posted an open verse challenge on TikTok for your song "Don't Text Me When You're Drunk". Thousands of users dueted the video, and Jimmy Fallon even added his own verse on "The Tonight Show". You also recently posted an open verse challenge for your brand new song "Dream Boy". Can you tell us about what this collaborative songwriting experience meant to you?
SR: I mean, my whole career started off of an open verse challenge. "Don't Text Me When You're Drunk" wasn't even finished when I put the open verse challenge out. I was just like "lets see what might happen" and no one could have predicted that it would have gone viral. It was so incredible to hear so many people add their own personal touch on a song that had only just been born. Obviously the whole collab element with Zai, getting him on the actual studio version was such a surprise. People still don't believe me when I tell them we didn't plan that. His verse just blew up and people were like "you need to put this out" and we were like "okay bet"! I've done open verses for almost every song that I put up afterwards because it feels very on brand and it's amazing to have that collaborative element. It's fun to connect with fans through sharing a creative moment together.
YH: Your song "Fall in Love Alone" has become a huge hit. Earlier this year, you even performed it on "The Late Late Show" with James Cordon! We'd love to hear more about this song and your experience performing it live on TV!
SR: I remember writing this song about a boy that I wasn't even involved with anymore. We were long-distance, and we never actually met face-to-face! I remember falling so hard for him, and I wrote that song from the perspective of when I didn't know how he felt about me. I wrote this song a year after this all happened. I remember feeling good about it the day we wrote it. We put it out and people really loved it. I remember sitting on my couch at home and I got a text that said, "Big News fire emoji". It said we got the offer to be on "The Late Late Show" with James Cordon. I jumped up from the couch and called my mom. I remember I got picked up in a car from my house, we stopped by Starbucks! I felt special and it was a very special day. The best crowd of people was there, and the performance went amazing. It was the perfect day! I still can't believe that I did that. 
YH: What is your favorite song you've ever written? Why?
SR: That's a hard question! It's like choosing between children! They are all special in different ways. "Fall in Love Alone", the reach that it got was amazing. So many people said they told the person they had feelings for that they like them because of my song! That is so cool to me that someone got the courage from my song to go spill their guts to their crush. That's hard to do! I don't do that! I also love it because I think of it as the soundtrack to the day that I performed on "The Late Late Show". "Over Tonight" is also one of my favorite ones. The arrangement and how we produced it is so unique. It's an amazingly well-thought-out song. I love it for that. Also the one that I wrote on Halloween that I mentioned earlier is high up there.
YH: Any favorite lyrics that you've written? 
SR: I'm in a book club and I'm reading this book called A Delicate Condition. The title is really cool and I remember, my producer said we should try to write something inspired by that title. We ended up writing a song about being sensitive and not afraid to feel your emotions. One of the lyrics is, "I'd rather be in a delicate condition / Just because there's tears doesn't mean you have to fix them."
YH: Who are your biggest inspirations?
SR: That's always such a hard question! My inspirations come from so many different places and times in my life. I would say, one of the most influential musicians for me would have to be Al Jarreau. I discovered him in 2019 when my teacher showed me a song of his. He made pop music but infused it with other different styles, mostly Jazz. He was doing that in the '80s, and that's what I'm trying to do 40 years later. He definitely inspires me. Then there's all the singer girls like Tori Kelly and Jazmine Sullivan andYEBBA. All those really amazing vocalists who know how to use their vocal agility so well. They sing so unapologetically and amazingly that they just make me want to sing! 
YH: What would your dream collaboration be?
SR: Honestly,Billy Joel would be so amazing! I just saw him at Madison Square Garden in September, and it was kind of life-changing. My dad has loved him for a really long time and passed that down to me. If I had to go with someone closer to my age and demographic, I would say maybe Ariana Grande! She's a pop girl who really sings, and I feel like we could do something jazzy!
YH: Tell us about your new song "Dream Boy"? What was your inspiration for this song, what was your experience writing it, and what else should we know about it?
SR: The day before we wrote this, my producers had met with some other producers and created some loops, just some instrumental tracks with no lyrics, no melody, no nothing. They played me this dreamy-sounding one that sounded really cool. We wrote along to that loop. Normally when I write a song, we create the music from scratch on the day of. I had never written something created the day before. Laura Anderson, the songwriter I worked with, thought of the idea of a dream boy. We just kind of built this story about having someone in your head that would be perfect for you, but you can only see them in your dreams. It's one of those cute, sweet songs that makes you feel good. It sounds like something you would listen to on a tropical beach.
YH: What should your fans be on the lookout for in the near future?
SR: I do have a Christmas song coming out soon! I'm so excited about it. That's going to be my last drop for this year but tons of stuff is coming next year! I'm working on my debut album; we're in the thick of it right now. I'll also be going on tour next year! I'm working my butt off right now writing the best music I've ever written. I can't wait to start the new year off with great songs and great vibes!