ARTIST TO WATCH + Q&A: Natalie Jane
Written by Skylar Zachian. Published: August 14 2023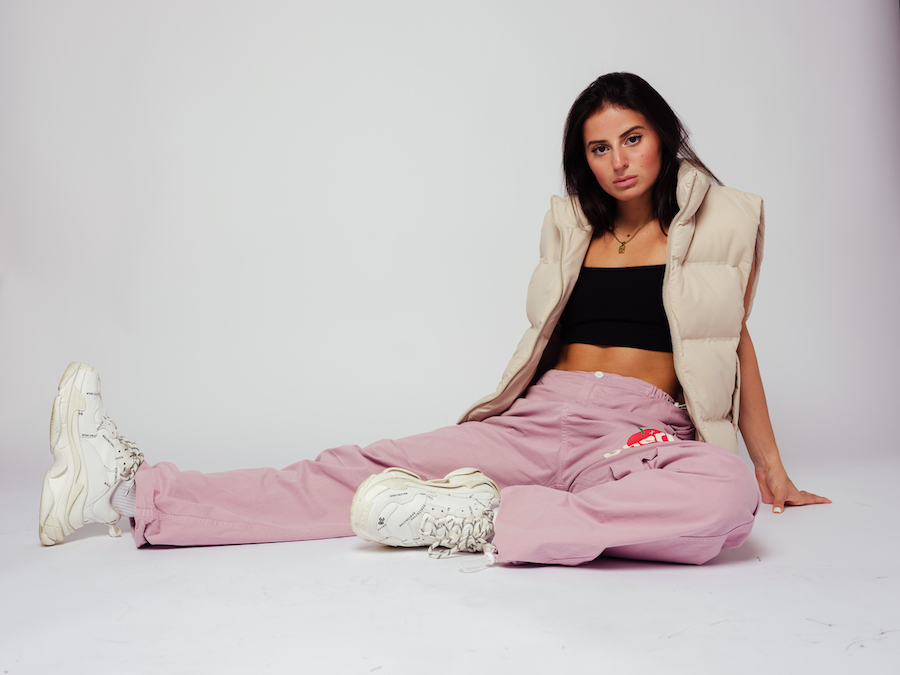 (Photo © Joseph Morrisson)
Natalie Jane is taking the music industry by storm, and we're loving every second of it. Chances are, you've seen the mega-viral TikTok of Natalie singing "Crazy" byGnarls Barkley. You've probably also added her electrifying song about a girl named Ava with a red heart next to her name to all of your favorite therapeutic playlists.
Since 2021, Natalie has released hit song after hit song with no signs of slowing down. In fact, she just dropped "I'm Good" (feat. charlieonafriday) in July, and she has a new track coming at the end of August! We recently spoke with Natalie about her music, upcoming tours, collaborations, and more! Check out the full Q&A below!
YH: Your voice is packed with unique power and energy. When did you first discover your musical talent and when did you decide to pursue a career in singing?
NJ: Since I was a kid, just watching people like Katy Perryand Adele, both big voices and big pop stars. I always looked up to them. I always loved to sing and knew this was the path I was going to take. I've been taking voice lessons since I was, like, 10, but I think I started to really take music seriously when I was 15 or 16.
YH: You made it to the Top 40 round on Season 18 of "American Idol"! What was that like? What did you learn from that experience?
NJ: That was a crazy cute little 8 months for me. I was 15 when I went on the show. On my season, I was the youngest contestant. It was kind of intimidating... but I made some of my closest friends, I metLauren Spencer Smith on it, Geena Fontanella... Geena is the girl on my "Crazy" video that did really well. She writes on a lot of the music I have. They just performed on August 8th at The Fonda, and I popped out with Geena for a song and watched Lauren. So, I made two of my closest friends from the show, which I'm very thankful for. 
YH: Now that you've been in the music industry for a number of years, what advice would you give your younger self?
NJ: I think you always have to trust your gut. I have tons of people telling me from all different directions their opinions on what I should be doing. In reality, I should be doing what I want to be doing. Sometimes you really have to block out the people and just listen to your gut, listen to your heart, and do what you feel you need to do. 
YH: Out of all of the songs that you've written, do you have a favorite? How about a favorite lyric? 
NJ: My favorite song that is out, honestly, is "Love is the Devil". It's the first song I ever put out. It means the most to me because it was the first step, in my opinion, to where I am now. I don't think it's necessarily the song itself that I love, but I love what the song did for me and I love that it was the first step in the journey. My favorite song, musically, sonically, is "Seven". My favorite lyric is from "Seven" -- "Remember when you said you wanted me to go blonde? Well now it makes sense that you ran right into her arms." When I perform it live, I say, "Remember when you said you wanted me to go blonde? Well now it makes sense that you ran right into Ava's arms." So, I do a little cross-reference and it's kind of cute and funny. People who know, know, and they like it. 
YH: You're kicking off your very own tour in Europe next month! What inspired you to title it the Where am I Tour? 
NJ: I actually haven't been asked that question before, so I'm happy you asked it! I decided to call it the Where am I Tour for a couple reasons. First off, it's a tour, so it's like, "Oh, where am I today?" Also, it's, like, where am I in life emotionally and career-wise? I don't really know where I am. Is this the beginning of my journey? Is this the end of my journey? Am I right in the middle? Or, emotionally, am I happy? Am I sad? Sometimes you just don't know. Sometimes you just kind of exist. The songs bring that emotion out, and it's like, "Where am I in life in general?" I feel like a lot of people can relate and a lot of people feel lost. 
YH: What 3 words would you use to describe the vibe of this tour?
NJ: Oh! It's giving energetic; it's giving wear your sneakers, 'cause you're gonna be jumping; it's giving angry. I want it to be a big therapy session. Get all of your anger out and leave your ex in the dust! I want it to be like cardio, lowkey. I went to a Bebe Rexha concert — I don't think people realize how many hits she has until you just hear her sing them all in a row — and the last 5 songs, I didn't stop jumping and my legs were sore the next day… I hope that's how mine is. We're gonna throw in a couple surprises, potentially the remixes of some songs. It'll be fun!
YH: What are you most looking forward to at these performances?
NJ: I'm always excited for live shows because I can meet people. I have people that watch me all day on a screen, but I don't know what their faces look like, I don't know their names. I'm just excited to meet them, especially on the other side of the world. When London sold out, I was like, "What do you mean?" I didn't really understand. Then we upgraded a bunch of shows and added another show. Then that sold out too! I was a little confused. How do this many people know me across the ocean?! But, I'm super excited to meet these people in person.
YH:Bishop Briggs is your biggest musical inspiration. You even called her song "River" "the best song on this planet". After your own tour, you'll be opening for her and Mister Wives on their tour from September 26 through October 15th! How did you react when you found out? 
NJ: Oh my goodness. I get a call from my manager, and he is like, "Hey, do you wanna open for Bishop Briggs?" I thought he was messing with me. Her full tour overlaps with my Europe tour, which is why I'm only doing the second-half. It's a really big full circle moment for me. She's my biggest inspiration. I would go into all of my sessions and play her songs and be like, "I want my stuff to sound like this." I went to her show in Philly in 2012. I remember I waited online, outside, I bought the merch, I did the whole she-bang, I made sure I was at the front of the crowd. I have videos on my phone of it. It was really cute! Now that I'm opening for her, it's wild. I'm just really happy.
YH: You recently posted a TikTok video with Kesha! What was it like singing with her? 
NJ: Ok! So,Kesha came to the garage. People were saying, "Natalie, your garage is iconic," and I'm like, "It's not iconic, it's just where I sing." But when Kesha came to the garage, I was like, "This garage is ICONIC." We sang "Praying" together, and I had chills on my body. She sounds exactly like she does on the record. If I could tell 15-year-old Natalie that she's singing withthe Kesha, I don't know if I would believe it. This year has been surreal. 
YH: We have to ask… You film a lot of TikTok singing videos in a parking garage because it has great acoustics. I, for one, would love to hear your impressive riffs and long-held notes while walking to my car. Do people ever approach you while you're filming there?
NJ: The garage is in my building. I moved to Los Angeles almost a year ago. I'd never been in an apartment before. I didn't want to be screaming and bothering people, so I went down to the parking garage, and it just had great acoustics and it kind of did its thing and I'm like, "Okay, I'll make this a regular thing." People do park down there, not as much because I choose the lowest level, so it's not as crowded as the upper levels. There are 2 types of people that will be parking their car: There's the young, slaying Gen-Z who will know who I am. They'll give me a little thumbs up and not really say anything. Then, you have these older people who kind of look at me with disgust and disapproval because I'm just down there singing in a garage like, "What is this person doing?" It's hit or miss with people.
YH: We love the cover art that you created for your rendition of "Crazy", your song "I'm Her", and your new collab "I'm Good"! Can you talk a bit about your love for visual art and how you plan to continue embracing this passion?
NJ: I think I've loved art longer than I've loved music… that's a lie. I think I've loved art equally as long as music! There was a point where I was considering going to college for visual art. I did it all throughout middle school and high school. I was an art major in portfolio art. I moved here, and I was afraid I would stop painting and doing all that, so doing my cover art and designing merch is a really nice way for me to stay in it. I love art. There's a very cute big project coming up with it… I'm having 30 fans meet. We're going to splatter-paint a piano and I'm going to use that piano in an acoustic video. It's going to be super fun. Super slay, super fetch. 
YH: Can you tell us about your most recent release "I'm Good" (feat. charlieonafriday)? 
NJ: That song is really fun! I just remember recording the song, and it was only a verse and a chorus… I just felt like it needed a feature. I was talking to my A&R at Capitol and I was like, "What are your thoughts on charlieonafriday?" And he was like, "Hm… I like this." I was mutuals with Charlie beforehand. I'm happy with how the song turned out, and I'm happy because now I feel like me and him are also closer after working on the project together. He's great. We filmed content together. He came to the garage!
YH: You and Christian Gates just sang an amazing unreleased song at Lollapalooza! Should your fans expect to see more surprise collaborations in the near future? Anything else in particular we should keep on our radar? 
NJ: Oooh. I think people can definitely expect some collaborations. Not in the near future, but in the general future. I have a bunch of really big surprises coming out. There will be something big happening on National Panda Day of 2024! [*important note, Natalie loves pandas!*] [As for the near future], I have a song called "Do or Die" coming out on August 25th!
Can't get enough of Natalie Jane? Click here to get tickets to her tour, stream her music, and check out merch that she designed herself! Plus, don't forget to mark your calendar for August 25th when Natalie's newest song "Do or Die" hits streaming platforms!