An Open Letter To Adam Rippon: Let's Be BFFs?!
Written by Caroline Thayer. Published: May 14 2018
Dear Adam,

It needs to be said. You are absolutely stellar. And I need (want/must have) you as my best friend. I know you were just in the Young Hollywood Studio, and now I want to make our BFF status official.
Adam, I'll hold all the bags when we go shopping at Gucci together. I'll vote for you on "Dancing With The Stars" until my fingers go numb. (Which will be never…because I'm a pro at calling. Ask me howCarrie Underwood won "American Idol"...) I'll even take pictures of you until you feel like you've got your Insta-worthy shot. I've laid out some of the reasons I (and everyone else, let's be honest) want you as my best friend. It's basically just a list of compliments. So, you're welcome.

1. You're kind of a big deal.
Not only are you a medaled Olympic figure skater, but you also made the TIME 100 Most Influential People list. It's probably because of your gigantic heart, incredible athletic abilities, and your unapologetic attitude about who you are and what you represent.

2. Your tweets are legendary.
Speaking of being unapologetic, I really appreciate that you don't apologize for being a babe. Like, sorry, World, Adam is just hot. He has no control over this. I'm choosing not to bring up your hair circa 2012. Us girls would love it if you were straight, but spoiler alert to those who live under a rock, Adam is not. So what makes your tweets legendary? It's that you're always honest. This tweet is truly the epitome of why people love you.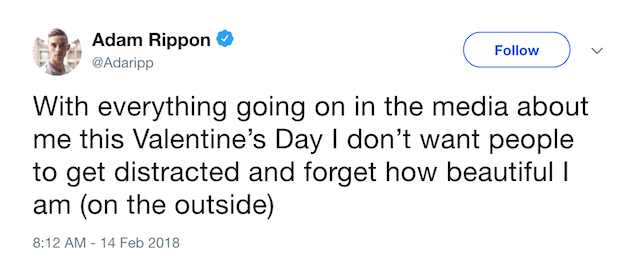 You seem to like food in this next tweet. I do too. Would you be my best friend if I fed you your meals?
Lastly, at least you're upfront about your "flaws". Like being late for every engagement. At least you don't make fake excuses for yourself.

3. We love all the same guys.
Adam, we don't have to let any guys come between us. We share a mutual love of Harry Styles and Shawn Mendes. I was truly ROFLING after watching your "Ellen Show" debut where you talked about our mutual celebrity crushes. But here is the thing, we don't have to get competitive over them. We can gossip over which heartthrob has better music or hair. We'll be happy for the other when we come face-to-face with one of the boys. And, if need be, we can always fangirl over Britney Spears and her epic Instagrams where she struts down an imaginary runway showing off her outfit. Let's be real, we do this too.

Additionally, I would love to be your best friend for the following reasons: To get perfect skin, have ample confidence, an endearing laugh, a ripped bod, learn how to make tense face expressions, try on your Olympic medal, and be in the presence of a truly wonderful human being. They're hard to find these days.

So Adam, are you convinced yet? Do you understand that it's imperative I be your new best friend? RSVP to my BFF evite and I promise you'll love a life with me in it! Are you more of a Blair or a Serena? I feel like you're Serena. I'll be your Blair...

XOXO,
Caroline
- Caroline Thayer, YH Contributing Writer