AMC Releases Theme Song (and Video) for "Better Call Saul"!
Written by Kevin Donaldson. Published: October 07 2014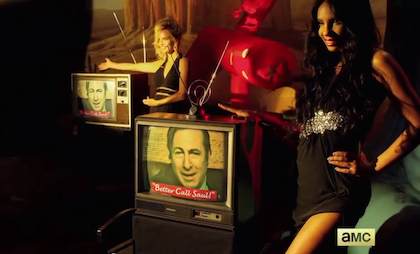 The highly-anticipated "Breaking Bad" prequel spin-off "Better Call Saul", about Walter White's crooked attorney Saul Goodman (played by comedian Bob Odenkirk), just released their theme song by Junior Brown entitled, oddly enough, "Better Call Saul"!
The song, accompanied by a music video, was released on Sunday following a "Breaking Bad" marathon, and since then, fans have been buzzing about if the song is in fact revealing plot details. Nobody can say so for sure, except for "Breaking Bad" and "Better Call Saul" creator Vince Gilligan, but it sure is catchy! Check it out below:
"Saul, Saul, you better call, Saul / He'll fight for your rights when your back's to the wall / Stick it to the man, justice for all." I can see that becoming just as catchy as the "Gilligan's Island" theme song. We haven't heard any theme songs like that in a while, and it definitely sets that "lighter" tone that Gilligan has promised the show will have. I mean, compare it to the theme song for "Breaking Bad":
Yeah, I'm thinking the same thing you are… it doesn't sound as inviting as "Better Call Saul".
The song references some specific things, like a drunk driving incident involving a friend and Long Island iced teas, professing your love to a girl named Fran through graffiti, shoplifting a George Foreman Grill from WalMart, and a slew of other criminal activity that you "Better Call Saul" to bail you out for. On top of that, there is SOME footage of Saul Goodman in action! It isn't much, but the show is set to premiere at an unspecified date in 2015, so at the worst you'll be waiting a year. Until then, you've got a great new song to listen to!
(Screenshot via WENN)
- Kevin Donaldson, YH Staff