Amazon Prime Announces Their 2015 New Series Line-Up!
Written by Kevin Donaldson. Published: November 21 2014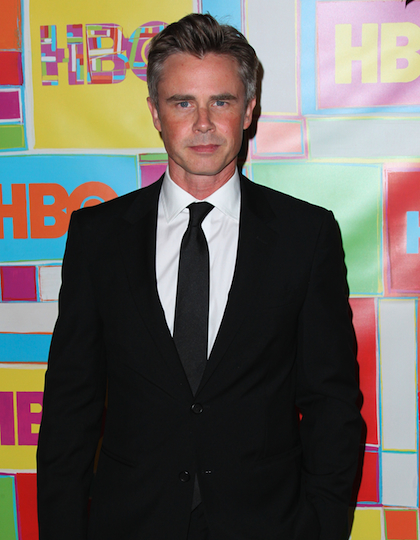 We now live in a world where some of the best television shows aren't on television. With the emergence of Netflix, Hulu Plus, and now Amazon Prime, posting original content online with professional actors (i.e.: Kevin Spacey in "House of Cards",John Goodman in "Alpha House"), and high-quality production value for subscribers (as well as freeloading friends of subscribers... we know who we are) seems to be another branch of the business. In case you didn't know this about Amazon Prime, they actually invite viewers to vote on the pilots they keep to send to series, instead of taking a chance and throwing a show up there like Netflix and Hulu Plus do. Now Amazon Prime has announced the next crop of shows set to battle each other for a spot in 2015:
"Cocked"
"True Blood" just ended, which for an actor means you go from a nice steady gig to being unemployed and searching for the next project. Lucky for "True Blood" alum Sam Trammell, this one-hour comedy, created by "Lie to Me" mastermind Sam Baum, was made just for him. The show will follow Trammell as Richard Paxson, a corporate doormat who left his family in rural Virginia 20 years prior to the pilot and vowed never to go back. He must return home, however, to help operate his family's gun business, and, as expected, family issues ensue. Also featured will be Jason Lee ("My Name is Earl), Brian Dennehy ("The Good Wife"),Laura Fraser ("Breaking Bad"), and Dreama Walker ("Don't Trust the B-- in Apt 23").
"Down Dog"
This comedy is set in Southern California in the late-'30s and centers on a yoga instructor (I had no idea either that yoga was in the U.S. back then either) named Logan Wood, who is played by Jason Casaubon ("I Just Want My Pants Back"). Wood makes things complicated for himself when he breaks up with his older woman girlfriend named Amanda, who owns the yoga studio he works out of. Amanda is played by Paget Brewster from "Criminal Minds".
"Mad Dogs"
An hour-long dramedy based on a U.K. series created by Cris Cole, the show will follow the reunion of a group of underachieving 40-something friends who celebrate the early retirement of another friend at his gorgeous villa in Belize. The original show follows the group of men as they are known for engaging in criminal activity, and was compared to the 2000 filmSexy Beast. It can be assumed that the friends will all be criminals in the U.S. version as well. The cast is also stacked, starring actors Billy Zane ("Twin Peaks"),Steve Zahn (Dallas Buyers Club),Romany Malco (40 Year Old Virgin),Michael Imperioli ("The Sopranos"), andBen Chaplin, who starred in the U.K. version as well.
"The Man in the High Castle"
A one-hour drama based on the 1962 novel written by Philip K. Dick, which follows an alternate universe where the Axis powers won World War II. (That would be the Nazis and the Japanese, for all you kids who fell asleep in History class.) The show will star Alexa Davalos ("Mob City"), Luke Kleintank ("Pretty Lilttle Liars"), and Joel De La Fuente ("Hemlock Grove"). The pilot will be directed byDavid Semel ("Heroes") and is written byFrank Spotnitz ("The X-Files").
"The New Yorker Presents"
A half-hour docuseries that features different segments like, Alan Cumming ("The Good Wife") and Brett Gelman ("Go On") acting in a short film based on a story by Simon Rich of "Saturday Night Live" fame. The short will be directed by "Arrested Development" director Troy Miller. There will also be a documentary done by Jonathan Demme, the director of such films as Silence of the Lambs andPhiladelphia. There's a bunch of other projects packed into it as well. Safe to say this series will feature a lot of different genres squeezed into a half hour.
"Point of Honor"
An hour-long drama following West Point-bred John Rhodes("Trueblood"), who, at the start of the Civil War, stirs up controversy by defending the South and freeing all of the slaves. The show is co-created and co-written by "Lost" and "Bates Motel" co-creator Carlton Cuse.
"Salem Rogers"
A half-hour comedy starring Leslie Bibb (Hell Baby) as Salem Rogers, a former supermodel who enjoys hard partying and is overly confident by being ridiculously blunt. The show picks up after she has been in a fancy rehab for the past ten(!) years and must now re-enter the real world. Having no idea what to do with herself, (did I mention she's a former supermodel?), she tracks down her old assistant Agatha, played by the outrageously hilarious Rachel Dratch("Saturday Night Live"), who is now an author of self-help books. Will she be able to help Salem with her life? I guess that's what the show's about! Scott Adsit of "30 Rock" also stars.
That's a lot of shows, and they all sounds so good, as well as different. It's going to be tough to choose one over the other on paper. I guess we're just going to have to watch them all!
(Photo via FayesVision/WENN)
- Kevin Donaldson, YH Staff