7 of The Most Iconic Oscars Red Carpet Looks of All Time!
03-11-2023 by Shani Milrad
  ( © Jeff Kravitz/FilmMagic via Getty Images)  
The Oscars are not only one of the most prestigious award ceremonies in the film industry but also a chance for Hollywood's biggest stars to flaunt their jaw-dropping fashion choices, eager to capture the attention of the audience and create a memorable fashion moment that will be talked about for years to come. While some outfits have earned their places in fashion history, others have become iconic for their sheer elegance or extravagant details.
In honor of the upcoming 95th Academy Awards, which will be presented this Sunday (March 12th), we've gathered some of the most unforgettable red carpet looks of all time. From glamorous gowns to daring ensembles, these fashion moments are guaranteed to leave you awe-inspired.
1. Gemma Chan, 2019
Back in 2019, Gemma Chan slayed the red carpet and showed us that fashion can be both pleasing to the eye and comfortable. She wore a sleeveless, vibrant neon pink Valentino Haute Couture gown with -- surprise -- pockets! In an interview with "Entertainment Tonight", she revealed that she had a chocolate chip cookie and rice crackers inside.
2. Natalie Portman, 2020
Natalie Portman's elegant black and gold Dior Haute Couture gown with a matching cape was a showstopper, but it was more than just a stunning outfit. The cape was embroidered with the names of female directors who were snubbed by the Academy that year, such as Greta Gerwig and Lulu Wang. Portman told the L.A. Times, "I wanted to recognize the women who were not recognized for their incredible work this year in my subtle way."
3. Timothée Chalamet, 2022
At the 2022 Oscars, Timothée Chalamet pushed the boundaries of formal menswear in the ceremony. He skipped the shirt part, wearing Louis Vuitton pants and a cropped jacket with a lace overlay, leaving internet fans going insane.
4. Julia Roberts, 2001
Julia Roberts's 2001 Oscars look is a timeless example of Hollywood glamour. She won Best Actress for her role in Erin Brockovich while wearing a vintage Valentino gown in black and white, featuring delicate lace embroidery and a royal train.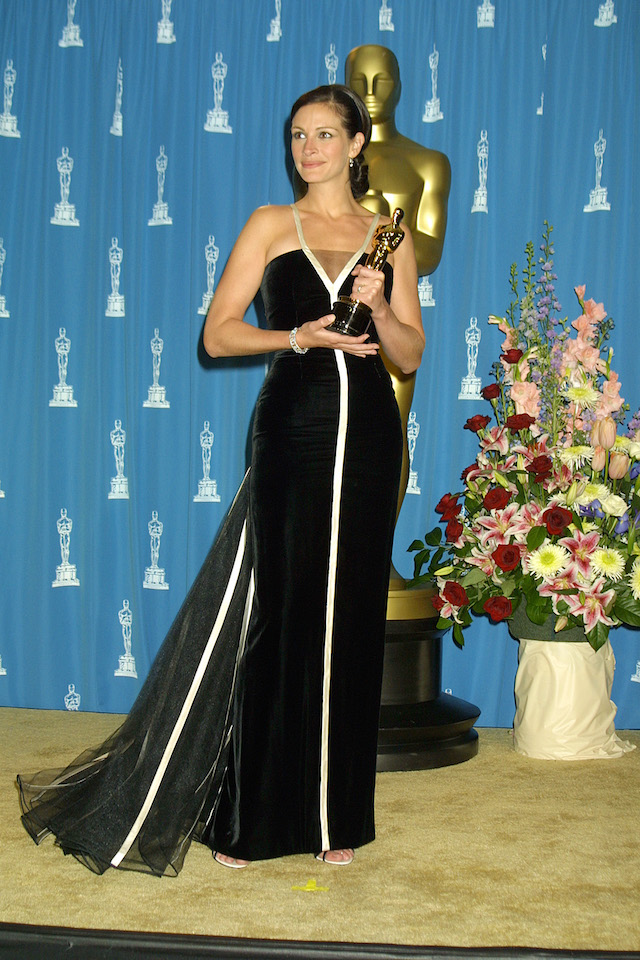 ( © Vinnie Zuffante/Getty Images)
5. Cher, 1986
Cher, the actress and goddess of pop, has had many iconic looks throughout the years. One of her most memorable outfits was seen at the 58th Academy Awards, partly as a protest for not being nominated for her role in Mask. She wore a nude gown by Bob Mackie, which was paired with a taffeta stole. Though she was not a nominee that night, she won the title of fashion icon!
6. Zendaya, 2018
In 2018, Zendaya turned heads on the red carpet with her effortlessly chic look. She donned a breathtaking one-shoulder chocolate brown gown from Giambattista Valli's Spring 2018 Couture collection. The flowing skirt of the gown managed to steal the show with its mesmerizing high-low hemline, perfectly teasing a glimpse of her strappy sky-high heels.
7. Billy Porter, 2019
We couldn't do a list of iconic looks without including Billy Porter from the 91st Academy Awards. His outfit, a velvet tuxedo-gown designed by Christian Siriano, was a groundbreaking moment in fashion. It broke down gender boundaries and started a much-needed conversation about the meaning of masculinity in the 21st century. Porter wrote in an essay for Vogue, "My goal is to be a walking piece of political art every time I show up. To challenge expectations. What is masculinity? What does that mean? Women show up every day in pants, but the minute a man wears a dress, the seas part."
What are your favorite all-time Oscars looks?