6 Reasons Why Dave Grohl Is The Best Human!
Written by Kayla Miracle. Published: June 22 2017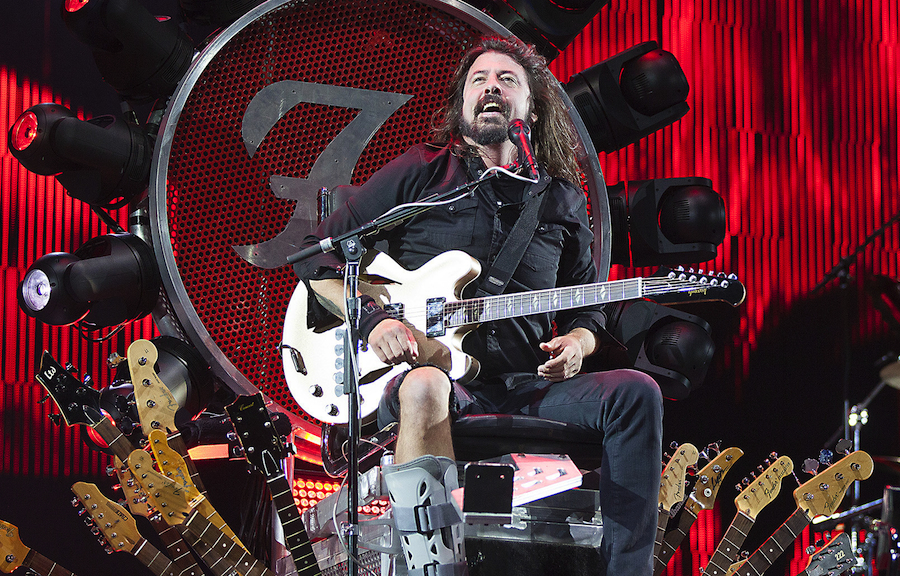 With the exciting news of Foo Fighters's ninth album dropping this September and their world tour beginning in October, it is important to highlight the band's most critical asset -- their leading man, Dave Grohl. Grohl is one of the hardest-working, genuine badasses in the biz. His work is legendary, his sound is killer, his hair is awesome, and he rocks harder than any performer ever. This man is iconic.
Need more evidence? Look no further.
He has major experience.
Dave Grohl is known nowadays as the lead singer of Foo Fighters, but before he was writing and belting hit songs for his band, he was the drummer for Nirvana. Yes, the Nirvana. The band, led by front man Kurt Cobain, is one of the greatest rock bands in history, making Dave one of the greatest drummers in rock history. When he started to play music at age 9, his mother knew he would go on to be an entertainer, but no one could have known just how phenomenal his career would be. Over the years, he has played alongside a wide range of other talented folks like Paul McCartney, Norah Jones,Slash, and even Taylor Swift!
He's wickedly talented.
Yeah, Dave has had vast experience playing in multiple world-renowned rock groups, but his talent level is beyond his experience. Grohl drums and plays guitar better than most people will ever dream of, and where did that talent come from? Not by taking lessons! Yeah, Dave Grohl taught himself how to completely slay a drum set and a guitar just by listening to other punk rock music. He even jokes about not really even knowing the names of chords on a guitar. To this, we are completely speechless.
He rocks so hard.
It's obvious when you see Foo Fighters perform live that Dave puts 110% into every performance. He plays the songs people want to hear, which is all of them, therefore he plays for hours on end while jamming harder than anyone in the venue, and also takes the time to acknowledge and love his fans. He is an incredible performer, but perhaps his most memorable performance moment is when he rockedtoo hard and fell off the stage mid-show in Sweden. Not super graceful, but despite the BROKEN LEG, he got back up andfinished the show on a stretcher. Can we say "hardcore"? The rest of that particular tour went on the be called the "Break A Leg Tour" where Grohl had a Foo Fighters-themed throne made for him to rock out on while also keeping his leg elevated. Talk about dedication!
He's funny.
On stage, off stage, and every where in between, this guy knows how to have a good time and crack some pretty hilarious jokes. He's also very good at making fun of himself. When rumors spread after his solo Grammys performance in 2016 that Foo Fighters were breaking up, he pulled the band together to make a spoof video of life after Foo. The video features him becoming a diva and deciding that working alone is just so much better for him, mocking all of the breakup buzz. Music videos are a good platform to witness his humor too. Just watch him throw his bandmate into a pile of dog poo in the video for "Walk". Literally LOL.  
He's hot.
Okay, okay, looks aren't everything, but at age 48, this dude looks fantastic. His signature long dark hair mixed with his huge adorable smile can make just about anyone weak in the knees. Whether he's head-banging while jamming out on the guitar, joking around with his band members, or talking about literally anything, Dave Grohl is a beautiful human being, inside AND out.
He's a good dad.
How many kids can say that their dad is a rock star? Not many. That's why Dave's kids deserve to be mentioned. Little Violet, Harper, and Ophelia Grohl are living the best life. Dave raves about his kids and occasionally even lets them come on stage with him. Oh, and he also makes sure they know the rock basics, like The Beatles. How cool is he?
You are one of a kind, Dave Grohl, and we love you for it!
Check out the new Foo Fighters album in September, but in the meantime, listen to their new single "Run"!
(Image via Emma Bryant/WENN)
- Kayla Miracle, YH Contributing Writer