5 Things to Know About The Women's March 2020!
01-16-2020 by Nicole Koch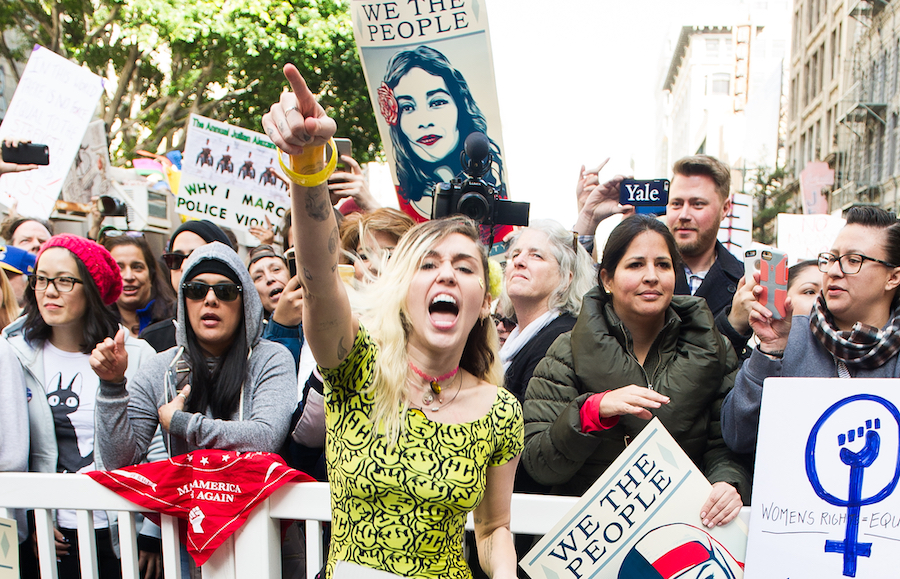 ( © Emma McIntyre/Getty Images)  
Calling all women and women lovers, supporters, and allies!
It's that time of year again where the country comes together for the Women's March! It's the Fourth annual march and it's expected to get real packed! I've gone before and it's truly a fun and exhilarating experience.

According to their site, the march "will be a moment where women rise for justice, rise for equity, and rise in power." Um, chills! How inspirational is that?
There are the things you gotta know about this awesome event:
1. Celebs get involved!
Who doesn't love an event where stars are present? Sarah Hyland, Lance Bass, and Laverne Cox were some of the few seen at the Women's March last year, while Jennifer Lawrence,Adele, Cameron Diaz,Scarlett Johansson, and Alyssa Milano were in attendance the year before!
Sometimes the celebs perform and make speeches, while other times you'll see them walking alongside you and supporting in the crowds. For example, Lauren Jauregui from Fifth Harmony was a favorite performer from 2019!
You'll definitely see celebs get involved on social media, if not in person.
Shout out toAriana Grande below for inspiring all the badass signs last year!

2. It takes place all over and it's free!
The main march takes place in Washington D.C., but they have what they call "sister marches" where you can find one near you! We're based in Los Angeles, so for everyone reading who's also from here, know that it takes place on Saturday January 18, in Downtown L.A. from 10am to 2pm!
The main meeting point is Pershing Square – prepare for a lot of people, not that many bathrooms, and I'd pack a water in whatever bag you're bringing! Make sure to be EXTRA safe and aware of your surroundings – this event IS political and you want to be on guard. 
3. It always super trends all over social!
Trust me, you'll see #WomensMarch trending all over the place come this weekend. Another major hashtag that gets people excited is #WomenRising! Sometimes you'll see people complaining about the march, but mostly it's full of inspirational pictures of people holding up signs and coming together to support their sisters! My favorite part? Seeing men there to support women! Men out there – if you have any sort of inkling to show up at the march, DO IT!!! Be cool and be our ally, ya know?
4, How did it come about?
According to womensmarchla.org, on January 21, 2017, 5 million women and allies marched across the country, while 1.2 million of them were JUST in Downtown L.A. alone! That day was after Donald Trump's inauguration and people were feeling passionate. I won't go into too many details here, but take the time to educate yourself on his beliefs and policies, if you haven't already. Like I said above, 2020 is the 4th annual march, and the organizers are getting people ready for voting in November!

On another site, womensmarch.com, they write, "In 2020, we have the chance to strengthen the movement we started three years, and to unite together in the face of continued attacks on our bodies, our rights, our immigrant communities, and our planet. This year, we aren't just marching. We're putting our bodies on the line hand in hand with other mass movements. With your help, we can make this the largest day of action the country has ever seen, and demand that our leaders be held accountable, protect our planet, and fight for our rights."
[*APPLAUSE*]
5. Want to help?
If you believe in love, equality and RIGHTS, you gotta check out the sources below on how to get involved!
https://www.womensmarchla.org/