10 Most Unforgettable Moments from the VMAs!
Written by . Published: September 01 2015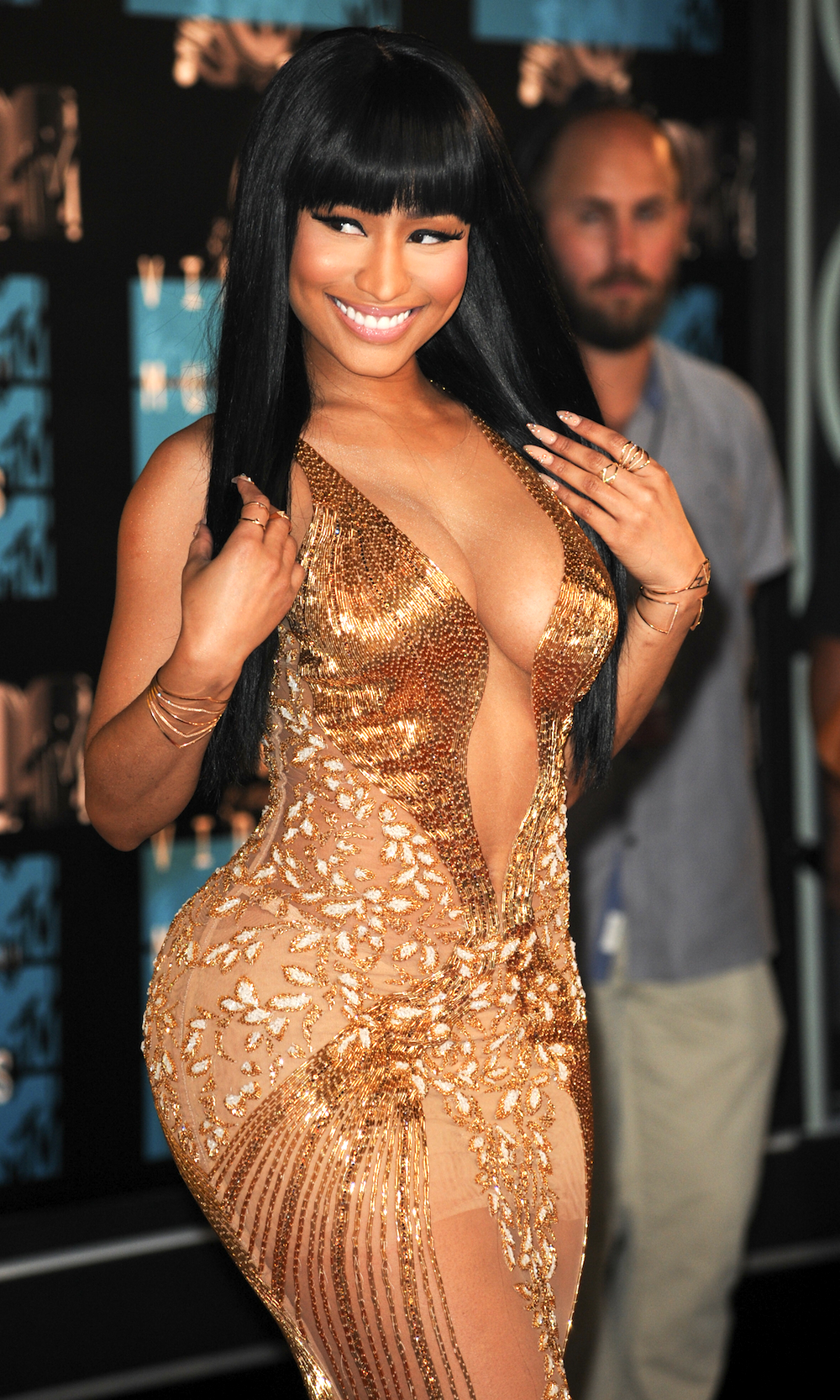 The MTV Video Music Awards is one of the most anticipated music award shows of the year. Who will get that coveted Moon Man trophy? Awards such as Best Male/Female Video, Best Rock/Pop/Hip Hop Video, Artist to Watch, and, of course,Video of the Year are constantly discussed and debated leading up to the show. 
Everyone is STILL talking about this week's VMAs, and for very good reason. The 32nd annual VMAs did not disappoint. If you didn't have the chance to watch the VMAs on Sunday -- or if you just want to relive the magically madness all over again -- here are the top 10 things you need to know:
1. Host Miley Cyrus's Crazy (and Risque) Costumes
She's just being Miley... the 22-year-old pop star was the VMAs first host in two years but frankly it seemed like she was made for this gig. At the beginning of the show, she admitted that MTV might go back to their no-host format after her. Every time she came on stage to host, she had a new outfit on. Every. Single. Time. The longest time she was wearing one costume was on the red carpet. And for that, she wasn't wearing much of anything at all.These outfit changes were out of this world. Only Miley can rock these colorful, glittery, revealing outfits. The pride flag costume was my favorite. 
2. Kim Kardashian's Outfit 
Speaking of outfits, pregnant Kim Kardashian wore a brown dress designed by Balmain Paris and Oliver Rousteing. Fancy, huh? Well, the internet had a lot to say about her outfit. There were memes comparing her to Barney Rubble, a deflated football, a baked potato, and laced combat boots. We guess they all forget that Kim is dressing for two these days? We thought she (and her baby bump) looked fierce! 
3. Macklemore and Ryan Lewis Performed "Downtown", Literally Downtown
Playing off of West Side Story, Macklemore and Ryan Lewis had a "Downtown" flash mob leading up to the Pepsi Stage at The Orpheum Theatre. It was choreographed very well, and rap figuresKool Moe Dee, Melle Mel, andGrandmaster Caz made special appearances.Eric Nally, who provided the song's amazing hook, went all-out alongside Macklemore and Lewis. 
4. Nicki Minaj Got Over Her "Bad Blood" with Taylor Swift...
Another unforgettable VMA performance featured Nicki Minaj and Taylor Swift singing "The Night Is Still Young". Afterwards, they hugged it out, and all is right with the world again. 
5. ... and Transferred it to Miley
Was it real or was it staged? That's what everyone is asking. After Nicki gave her acceptance speech for winning Best Hip Hop Video for "Anaconda", she threw the mic and some considerable shade to Miley. Jaws dropped. Miley, who was standing a few feet away on a different stage, took the high road, but Nicki didn't seem to be having it. Miley then kept the show rolling. Woah. 
6. Taylor Swift Won Music Video of the Year for "Bad Blood"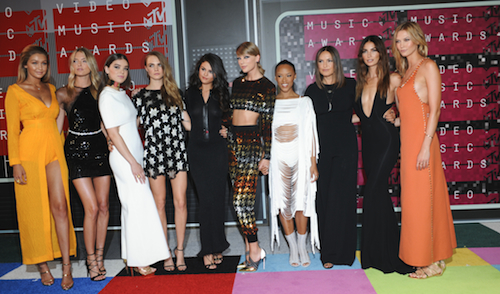 Are you really surprised? Taylor invited her 9 "plus ones" to the stage with her to accept her Moon Man trophy, including Gigi Hadid, Martha Hunt, Hailee Steinfeld, Cara Delevingne,Selena Gomez, Serayah,Mariska Hargitay, Lily Aldridge, and Karlie Kloss. Quite an entourage! But what does Kanye have to say? Well, nothing -- Kanye West pretended to nap and keep out of trouble during Taylor's acceptance speech. Good move!
7. Justin Bieber Cried After His Performance 
It has been a long time since Justin performed on stage, and the last time he performed at an award show, he was booed. This time, though, the crowed jumped on their feet and cheered for him. Justin cried because he was simply overwhelmed. Happy tears! Justin began his performance with "Where Are U Now?", produced byDiplo and Skrillex, and then moved on to his new single, "What Do You Mean?". Justin released the music video for his new track over the weekend, and thanked his fans for all the love on Twitter. 
8. Miley Nip Slip 
Need we say more? Before the final act, Miley Cyrus was changing behind a black curtain and was clearly not done -- As she was talking into the microphone with one hand, the other hand was holding the black curtain against her ta-tas... then the curtain began to slip and so did the nip.
9. Miley Not Only Performed But Dropped Her Free Album
If you thought Miley couldn't top her 2013 "Blurred Lines" duet withRobin Thicke, she soon proved ya wrong. To close the show, Miley performed her new song "Dooo It!" (backed up by about 30 drag queens) and ended the performance by launching confetti cannons from her crotch area and announced her brand new album online for free. Now THAT is how you end an award show! (Your move, Oscars.)
10. #KanyeforPresident Began Trending on Twitter 
Looks like Taylor Swift and Kanye West are friends again. Six years ago, Kanye infamously interrupted Taylor's VMA acceptance speech, claiming that "Beyonce had one of the best videos of all time." On Sunday, Taylor told Kanye that he had some of the best videos of all time, and presented him with the Michael Jackson Video Vanguard Award, which is MTV's version of a lifetime achievement award. Claps for Kanye! Kanye made a candid 12-minute acceptance speech -- 2 of those minutes were of him soaking in the claps while on stage, and the rest was dedicated to talking about artists, music, "rolling up a little something to knock the edge off" before his speech (ahem), and, oh... he announced he's running for president in 2020. Yes. That just happened.
Thanks to the 2015 VMAs, the countdown for the 2020 presidential race has officially begun!
What was YOUR favorite moment from the VMAs??
(Photos via Apega/Brian To/WENN)
- Rachel Robillard, YH Staff