Taylor Swift visits military cemetery
Written by . Published: August 04 2011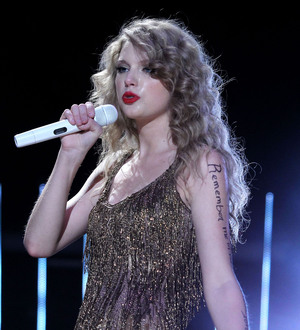 Country star Taylor Swift has paid her respects to the country's war dead during a visit to a military cemetery.
The Love Story hitmaker performed at the Verizon Center in Washington, D.C. earlier this week (begs01Aug11), and later took time out of her schedule to make the trip to Arlington National Cemetery in Virginia.
Taylor Swift was spotted walking the grounds and laying flowers on the graves of John F. Kennedy and Robert Kennedy.
She later stopped at the famous Lincoln Memorial, honouring the 16th President Abraham Lincoln, on the National Mall in Washington, D.C. and posted a photo from her visit on her Twitter.com page.
Taylor Swift tweeted, "After the show, we went to see Abe!! Pretty magical. It was my first time seeing the Lincoln Memorial up close (missed the school trip in 8th grade cause I had a show)."