Pinkett Smith defends kids' showbiz careers
03-31-2011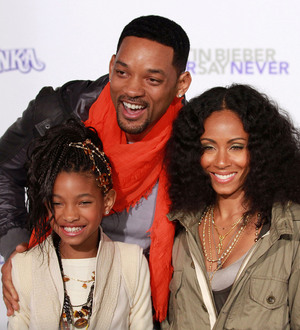 Jada Pinkett Smith has defended her decision to let her two children start their showbusiness careers at such a young age, insisting they don't shoulder the same burdens as other pre-teen stars because they have no financial pressures.
Jada and her husband Will Smith's son Jaden, 12, already has a movie career, starring in last year's (10) remake of The Karate Kid, while his 10-year-old sister, Willow, has launched herself as a singer and is currently on tour with Justin Bieber.
The Smiths have come under scrutiny for letting their young children enter the spotlight, with author Terry McMillan even accusing them of "exploiting" and "pimping" out their kids.
But Pinkett Smith has brushed off the criticism and she is adamant her son and daughter remain "grounded".
She tells Britain's Daily Mail, "This isn't about fame or money. They were still going to have their trials because of who their parents are. As much as I wish I could figure out a way I could protect my children, they have their destiny. I'm not going to put brakes on that out of fear.
"Our children are allowed to stay in the paradigm of being a child. They don't have to take care of their families: become the complete emotional, physical and financial focus that happens to many child stars. Our family structure is a little different and it's quite hard to comprehend because it's so outside what usually happens in a family, but the paradigm is the same. You have Mother. You have Father. Father is protective. Mother is the teacher.
"Most of the time with child stars, the child has all the responsibilities and the mother and father don't understand what's actually happening to them, so the child can trust no one... But with us the paradigm stays the same because the child can still be the child with an extraordinary gift. It is something to manage. I will not overlook that. I have a 10 year old who can stand up in front of an audience of 17,000 and rock the house. I have to keep her grounded."