Ross Lynch & Tye Sheridan Both Escape Into Technology in 'Status Update' and 'Ready Player One'!
Written by Diego Pineda. Published: March 30 2018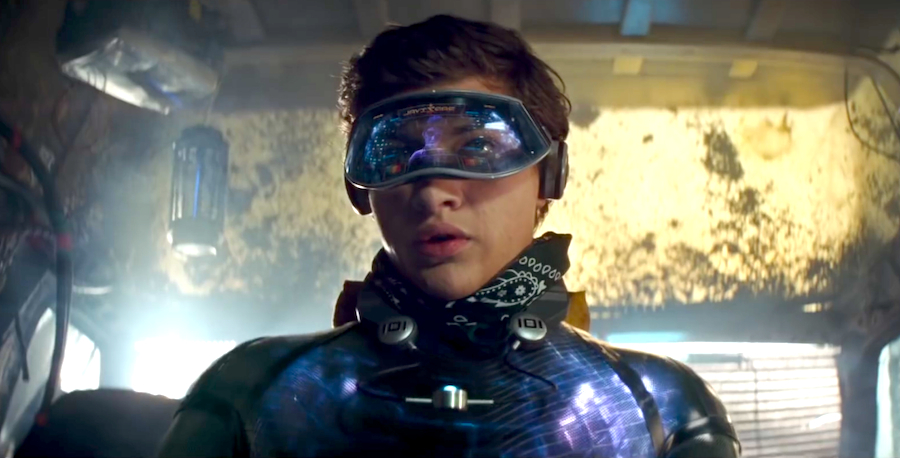 The simple click of a button on an app and playing in a virtual reality video game can lead two lonely teenage boys into doing things they never imagined of in two films opening this weekend: Status Update and Ready Player One.
Even thoughStatus Update is a teen comedy and Ready Player One an action-packed blockbuster, these two films are more similar than you might think! Both are related in the sense that, through the use of modern technology, the protagonists are able to find purpose in their lives and enter a journey through a digital screen that can lead them to find happiness... or possible danger.
In Status Update, 17-year-old Kyle (Ross Lynch) has just moved to a new town and school. He can't seem to find his place in his new home and is even bullied by the jocks. It is not until he downloads an app called U-Niverse that he begins to gain popularity. In the app, he basically writes a wish or desire and it eventually becomes a reality within a matter of minutes. Who wouldn't want a virtual Aladdin genie lamp like U-Niverse on their phone?? From performing Bruno Mars in the cafeteria to becoming a hockey star overnight, Kyle must learn to use the app wisely or he will begin to lose a sense of himself and relationships with those that he cares about the most, such as his family and love interest Dani (Olivia Holt). Will Kyle find a balance in using the app and living out his life as he used to? We sure hope so!
Watch the trailer to get to know more about Kyle's app that turns his life into a fairy tale with the touch of a button:
Meanwhile, inReady Player One, 18-year-old Wade (Tye Sheridan) lives in the packed city of Columbus, Ohio, in the year 2045. He enters a whole new world when he places his VR goggles on through a virtual universe called OASIS. 70 percent of the population goes to OASIS to do things they had always dreamed of and become the people they have always wanted to be. Life inside the video game becomes intense when the creator of the game, James Halliday (Mark Rylance), dies and he begins a contest for all the users to try to get control of the game. The first to find an Easter Egg hidden in the OASIS will take Halliday's fortune! Wade will be one of the top contenders in this competition, but will he be able to track down the clues and find the Easter Egg? Or will the game lead him to a dark and dangerous path?
Watch the trailer to get to know more about OASIS in Ready Player One:
Both Kyle and Wade find a sense of belonging by using their respective tech devices. Both U-Niverse and OASIS serve as an escape from the reality they live in. But will their devices soon prove to be a nightmare or a blessing? We can't wait to find out how both of these movies unfold!
Status Update will have a limited premiere in select theaters starting today (March 30) and will also be available via video demand. Ready Player One is now playing in theatres everywhere.
(Image via Warner Bros.)
- Diego Pineda, YH Contributing Writer