HIDDEN ON STREAMING: "SuperMansion"
Written by D.J. Rivera. Published: January 18 2019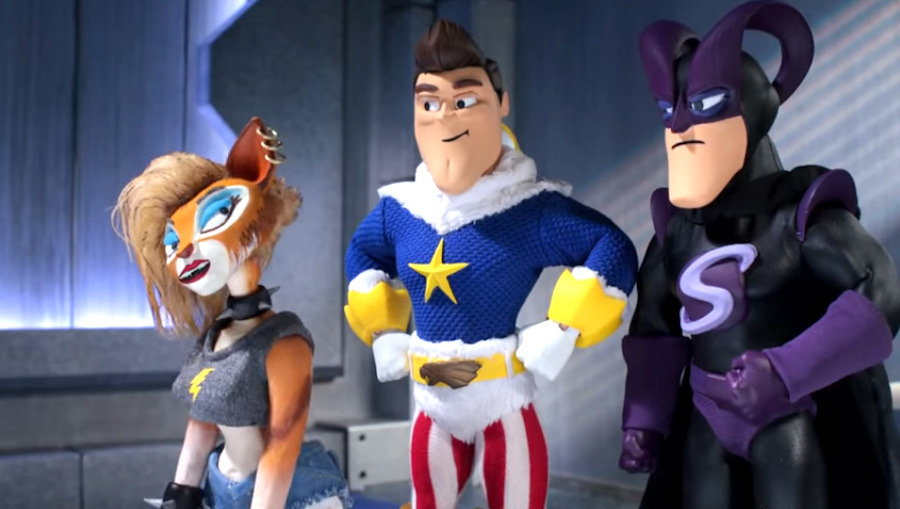 So if you're like me and are tired of the oversaturation of dark, gritty superhero dramas that have a touch too much sadness, not to mention very poor lighting, then I have a show that will change the way you look at superheroes.
The one thing fans love more than their caped vigilantes is putting their masked heroes in ridiculous situations. This is where Sony Crackle comes in once again to prove that people should seriously stop neglecting that orange app on the menu of their screen. The people that brought "Robot Chicken" to Adult Swim have created the series "SuperMansion". These masters of the stop-motion comedic narrative have gone from pop culture parody skits to taking on the ever-popular superhero genre.
The hilarious half-hour sitcom centers on the misadventures of a team of the largely inept heroes called The League Of Freedom that reside in a mansion similar to DC Comic's Hall of Justice or Avengers Tower seen in the Marvel Cinematic Universe. The heroes continually team up with new allies and fight an assortment of equally funny villains, including the incompetent Injustice Club. The members of this so-called league are the usual suspects of traditional Avenger-style teams with some quickly noticeable alterations.
These ragtag bunches of heroes are brought to life by some of the best names in the voice-acting game today, which include the likes ofKeegan-Michael Key, Tucker Gilmore, Heidi Gardner, Zeb Wells, Jillian Bell, and Chris Pine. Pine's voice roles include Robo-Dino and Dr. Devizo, two of the show's main villains, and his voice is almost unrecognizable in both roles. Leading this band of misfits is the aging Superman-esque hero Titanium Rex, voiced by "Breaking Bad" star Bryan Cranston, who also holds the title of Executive Producer. And while this lineup is very impressive so far, the only thing more impressive than the cast list is the roster of guest stars that have appeared on the series, includingJon Bernthal, J.K. Simmons,Jim Parsons, Dax Shepard,Lake Bell, Minnie Driver,Famke Janssen, and Ron Perlman.
"SuperMansion" has aired 36 episodes over 3 seasons and has had a crazy run hitting on all the beloved superhero clichés in their own side-splittingly hilarious way. Things like time travel, inter-dimensional travel, and power gauntlets are all given the comedic treatment in each episode. There are also 4 holiday specials to enjoy that see the team survive a sentient, evil, wish-granting puppet on Christmas, a cursed man-hungry ghost lady on Halloween, and a Summer vacation where they fight the forces of evil alongside none other than Barack Obamahimself (voiced by Jay Pharoah).
The latest entry from the series comes in the form of a turkey cook-off between Cranston's Titanium Rex and Pine's Dr. Devizo. The rest of the team also gets in the holiday spirit and experiences their own blend of Thanksgiving-themed shenanigans.
Every single episode of "SuperMansion", including the 4 specials, can all be viewed for free on Sony Crackle.
(Image via Sony Crackle)
- D.J. Rivera, YH Contributing Writer